Top 10 Things to Do at the Fairmont Jasper Park Lodge in the Winter
Massive decorated chandeliers, giant Christmas trees, and endless mountain scenery, oh my!
If the sight of rustic decor and dramatic winter landscapes makes your heart sing, then today's blog post is for you! I am taking you on a visual journey of my recent winter trip to the beautiful Fairmont Jasper Park Lodge (JPL) in Alberta, Canada.
If you've never been to the JPL, I am also about to share ten reasons why you should consider it for your next winter getaway. These are the top ten things we found that you can do in and around the hotel during the snowy depths of winter, AND you can enjoy them all even if you are not a hotel guest! I will also share some travel tips and lots of photos to entice, in case you are planning a trip of your own to this beautiful place in the future.
We (my husband and I) were excited to experience a fun winter get away with our extended family for 4 nights in December 2018, and Jasper did not disappoint! This was my first visit to the Jasper Park Lodge (though technically I had been to Jasper once before when I was very young, but I have little memory of it so this was really a new experience to me).
You all know how much I love to check out all the interiors and decorative details when I travel to a new place. Exploring a new hotel is always fun and inspiring - from the colour schemes to the light fixtures, I take it all in. The Jasper Park Lodge (JPL) definitely served up some great visuals to share with you all!
(Note: I want to mention also that this is not a sponsored post. I just like to chronicle our travels! The content below is 100% my own thoughts from our recent stay in Jasper in December 2018. All photos taken by me )
Discussion about the amazing food, rustic decor and local history awaits. Let's get started!
There are two ways to get to Jasper from Calgary:
We chose the latter, because we wanted to avoid potential delays on the Icefield Parkway (in case of avalanche activity).
No matter which way you go, there is plenty of stunning mountain scenery on the way!
After a half day of driving from Calgary, we reached the Rocky Mountains just as the sun was getting low in the sky: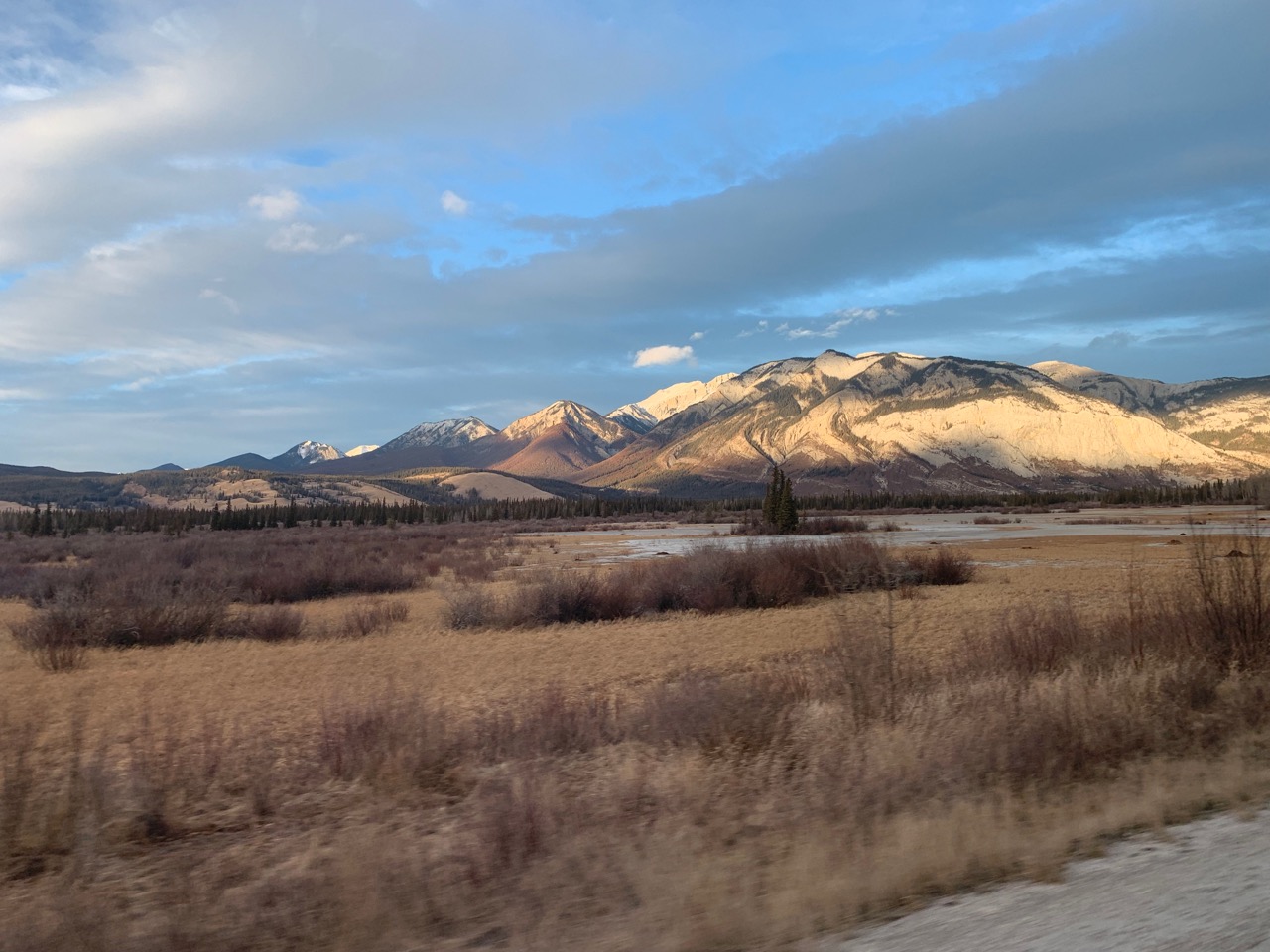 The lack of significant snowfall in the area surprised us, however, it was still early in the winter season!
Note: Don't be fooled by my photos of bare pavement above. If you go, be prepared for winter driving conditions. Winter emergency gear is highly recommended when travelling through the mountains in the winter.
We arrived in to Jasper just before sunset, (close to 4:00 pm at this time of year). Approaching the Jasper Park Lodge you will drive over a bridge, through a corridor of trees and under a welcoming archway.
Suddenly through a clearing in the trees you will see a beautiful frozen lake dotted with people skating around ice!
Then around another bend, past the frozen golf course, and before you know it, you are pulling up to the main lodge.
When you walk in the front lobby, you are greeted with a blast of warm air (a welcome feeling after the refreshingly cold air outside!).
Up above you are soaring ceilings with rustic wood beams and massive chandeliers decorated in red garland for the holidays.
Next, look to your right and you'll see a giant gingerbread house, made entirely of real gingerbread! (I really regret not taking a photo of that ginger bread house! It was a work of art).
The next thing you might notice is an adorable dog or two, most likely dressed up in their finest cold weather sweaters and booties! Being a dog-friendly hotel (the JPL has their own resident pooch!), many guests have a furry family member tagging along for the holidays.
In the first few minutes we spotted a family checking in with two happy golden retrievers, a retired couple with their little white Scottish terrier wearing a blue snow-flake sweater (omg so cute), and a young woman with her adorable Bernese mountain dog puppy (he was learning to sit so nicely at the door). Suffice to say there were cute pups out and about in the main lobby. Awe!!!!
Immediately upon arrival, the hotel staff were SUPER helpful. They got us checked in fast!
Within minutes we were back in the car, room keys in hand, and following behind a JPL vehicle leading us to our cabin.
Around the corner and down the road, we found a parking spot and were shown to the door of the adorable log cabin that would be our home for the next 4 nights. Before we even finished unloading our bags from the vehicle, the first thing to do was check out our accommodations!
The Cabin Interiors & Decor
The cabins are exactly what you might expect a rustic mountain cabin to look like on the inside and out. From the warm wood paneling to the Christmas tree in the corner of the living room area, I adored it all!
Picture this: dark hardwood floors, light creamy painted walls, brown leather furnishings, crisp white bed linens and accent colours of red and green.
We were thrilled to find our cabin had a wood burning fireplace, complete with tools and a supply of firewood.
The stone fireplace surround - with its large wood beam mantle - and the wrought iron chandelier (on a dimmer switch!) were my two favourite features of the whole space. Because really, is there anything better than the sound of a crackling fire when it's -20 degrees outside?
Once we were settled in, it was time to go in search of FOOD. Hats, boots and coats went back on, and out the door we went to walk back to the main lodge. Which brings to to the first item in my list of Top 10 things to do at the Jasper Park Lodge!
Presented in no particular order (actually, they are listed in the order we experience them in!) Below are the top ten activities we saw or experienced during our stay, I think you'll enjoy them too!
1. Relax and Eat at The Emerald Lounge
We settled in to some cozy chairs in The Emerald Lounge to order a round of drinks and something for dinner. If you eat here, I recommend the nachos, the chicken wings and the grilled chicken BLT (quite possibly one of the best grilled chicken sandwiches I have ever had).
The Emerald lounge stretches from the front lobby all the way across to the other side of the Great Hall, with a massive fireplace right in the middle.
Interesting fact: We learned that this fireplace is the only surviving part of the original lodge that burnt down in 1952 (and was promptly rebuilt a year later).
2. Visit the Shops and Art Galleries
After you've filled up on yummy food, it's time to explore the lodge! Wander down the stairs to the lower level and you will find the shops and the Mountain Galleries. This is the place to browse amongst the gorgeous sculptures and paintings by local artists. We found the perfect souvenir to take home from the Fairmont Store: a Christmas ornament to commemorate our trip!
3. Book a Treatment at The Spa
A morning at The Spa at the Fairmont Jasper Park Lodge is such a lovely experience that it deserves its own blog post (coming soon!). I can honestly say that I enjoyed one of the most relaxing massages that I have ever had!
If you go, call ahead at least a week before to book your treatment (especially if you are there at a busy time).
Definitely plan to arrive 30 minutes early for your appointment so that you can take your time exploring the amenities (hello steam room!) and relax in the waiting lounge. You'll receive a locker with a warm fuzzy robe & sandals, and find the waiting lounge stocked with water, coffee, and light snacks.
4. Swim at the outdoor Pool After dark
A swim at the Jasper Park Lodge outdoor pool & hot tub is a MUST. We went in the evening (around 8:00 to 9:00 pm), which is definitely the best time to go in the winter! After dark there is such a neat ambiance created by the steam rising up off the pool.
If there's no breeze and it's really cold outside, the steam hovers low around the pool creating a lovely thick fog that makes it impossible to see more than a few feet in front of you. Even if the pool is busy, it almost feels like you have the place all to yourselves!
Tips if you go:
Bring a small beach bag with you for carrying your belongings & wet swimsuit between the main lodge and your room. You will want to change into dry clothes for the walk back to your cabin!

Shoes are not allowed past the pool reception area (a bench & storage cubbies are provided). Flip flops are a great idea if you prefer not to go bare foot between the pool and the change rooms.

Lockers are available in the change rooms. We found that some of the electronic locks did not work, so be aware that you might need to test out a couple of lockers before you find one that works.
5. Go to the Christmas Buffet
Have you ever had a bread pudding dessert that tasted so AMAZING that you went back for seconds… twice!?! I did, at the Christmas Day Brunch in the Beauvert room! The "Panetonne Bread Pudding with Amaretto Anglaise" it was called… omg, it was heaven on a plate!
If you are at the Jasper Park Lodge on December 24th and 25th, then I highly recommend you reserve a table for the buffet. Book a few weeks early, because spaces fill up!
The Beauvert room was fully decked out in the Christmas spirit for the event:
6. Go on the History Tour or nature walk
When I saw "History Tour" on the schedule of activities, my response was "OMG WHERE DO I SIGN UP" because you know, I LOVE things like that :)
If you are not quite the hotel history nerd that I am, then the equally lovely Nature Walk is offered on alternate days. Either way you get a tour of the hotel grounds, and some exercise in the fresh air while you are at it!
If you do go on the History Tour, you'll be greeted in the main lobby at 1:00 pm by the tour guide, who will take you on a walk through the main lodge and around the grounds, all the while depositing nuggets of history facts along the way!
I won't give away too many details. But I guarantee you'll enjoy it if you are interested in learning about how the Jasper Park Lodge came to be, and which famous & royal people have stayed there (with a walk past the cabins they stayed in)! You will also find out the names of the mountain peaks you see around you, and learn which guest cabins had a prior purpose (can you guess which ones were at one time used as the jail, the medical building, and the greenhouse?!)
See some of my photos from around the hotel below:
7. Go Skating on Mildred Lake
With an ice skating track and two hockey rinks, ice skating on the frozen Mildred Lake is a popular activity! Forgot your skates? No worries, rentals are available!
We didn't go out on the ice ourselves, but we enjoyed a walk along the area and watched the skaters looping round and round the oval. A great way to get out and enjoy the mountain air!
Be sure to bundle up, and enjoy a cup of hot chocolate to warm up when you are off the ice :)
8. Gather by the Fire
Ready to warm up after a day outside? It's time to get cozy around the fire!
Some cabins have a wood burning fireplace or stove inside, but if yours does not, there are still several places around the resort to relax by the fire.
Keep an eye out for an outdoor fire pit (we spotted ones near the Gardener's Cabin and next to the Planetarium!), or book a table for dinner at the Moose's Nook Chophouse near the fireplace. We had dinner at Moose's on our last evening at the JPL, and the fire really was a roaring!
And of course I've mentioned already, there's always the big fireplace in the Great Hall in the Emerald Lounge. They even had a free hot chocolate station in the Great Hall with little to-go cups. I found this was great way to keep my hands warm on the walk back to our cabin!
9. Visit Santa's Cabin
Have some little ones in your group? A visit to Santa's cabin is a must! Open at designated times each day, a stop here brings the chance for photos with Santa or with the cute reindeer statues out front. Get your cameras ready! We stopped in here for a family photo, and it was a treat to see how they had decorated the space for the holidays.
10. Take in the Scenery at Maligne Canyon
A stay in Jasper isn't complete without a visit to the stunning Maligne Canyon. Just a short highway drive away from the JPL, we included a stop here in the mid-afternoon on our final day of the trip.
If you've never been here in the winter time, it's a must-see!
Four nights flew by in a flash, and before we knew it it was time to pack up and drive home. We were up early and out the door before 8:30 am, long before the sun came up!
On the drive home, we reflected on what we would love to do next time if we have a chance to go back to Jasper someday. Our wish list for next time includes:
We definitely want to go back in the summer, to see the beautiful emerald green Lac Beauvert in full summer glory!

Next time we will drive the Icefields Parkway from Lake Louise to Jasper

We want to buy a book about the local history of Jasper ( I saw one at the Fairmont Store, but forgot to go back to buy it before we left!)

Visit the Jasper Park Lodge Planetarium (one of the few activities we missed this trip!)

Go back to Maligne Canyon in the summer to see the waterfalls at their peak
Are you up for a winter adventure? Or better yet, a winter wonderland experience at a hotel over the Christmas holidays? If any hotel in Alberta knows how to do Christmas away-from-home properly, it's the Fairmont Jasper Park Lodge. Wow!
If you go, be sure to check out these activities on my top 10 list of things to do at the JPL! In no particular order, and without further ado, my recommendations are:
Top 10 Things to Do - Tried and Tested!
Relax and Eat at the Emerald Lounge

Wander the Shops and Art Gallery

Eat at the Christmas Breakfast Buffet

Swim at the Outdoor Pool After Dark

Book a Treatment at The Spa

Go on the History Tour or the Nature Walk

Go Skating on Mildred Lake

Gather by the Fire

Visit Santa's Cabin

Hike at Maligne Canyon
My husband and I, together with several members of our extended family, had an amazing time on our group trip, and I cannot say enough good things about this hotel and the gorgeous surroundings.
As a born & raised Calgarian I am thrilled we booked this trip at the Jasper Park Lodge, one of the premier destinations in my home province of Alberta. This was my first visit, and I can easily say that we plan to go back.
I wish you good luck on your future travels! Thanks for reading!
Amanda :)